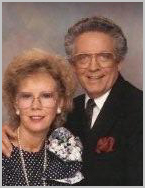 Dr. Ervin and Fay Donaldson are a powerful couple who are driven with a vision to bless the leaders of the Kingdom of God. They are multi-gifted as pastors, missionaries and overseers of many pastors as well as local churches. For over 51 years, this couple has traveled the world taking teams of medical doctors, construction workers, educators, children's pastors and evangelists to help build churches around the world. The Donaldsons have pastored churches in Hollis, Oklahoma; Ardmore, Oklahoma; Knoxville, Tennessee; and Bethany, Oklahoma for almost 40 years. During this period, they have given large sums of time and money to world missions. Now, they work full-time ministering to other ministers as their pastors and overseers. Dr. Ervin Donaldson also preaches for various churches bringing a fresh Word from God and travels world-wide training leaders in God's Kingdom. Dr. Ervin and Faye Donaldson are the proud parents of four children, eight grandchildren, as well as six great grandchildren.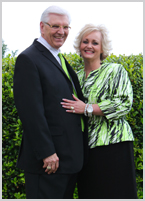 Drs. Coy and Dee Barker are ministerial visionaries who epitomize a life quest of pursuing the glory of God, and operating in the supernatural with the evidence of miracles, signs and wonders that follow. For over 40 years, Dr. Barker has served as senior pastor, with his ministry beginning in Millersville, Tennessee, where he took the membership from 20 to over 1600 active members. He then pastored in Montgomery, Alabama, experiencing tremendous growth from 120 members to over 1800 members. His next move in ministry took him to Oklahoma, where the church grew from 300 to over 4000 members. This was all preparation for his move to Atlanta, Georgia when he birthed a multi-cultural, nondenominational ministry. Dr. Dee walks hand-in-hand with her husband in ministry, and is a psalmist who carries a mantle fashioned for leading true worshippers into the throne room. She serves as co-pastor of their present ministry, as well as is the founder of Steppin' Out Ladies, a ministry birthed to encourage women to step out and into their God-ordained destiny.
They jointly collaborate with Dr. Ervin Donaldson of Calvary Christian International Fellowship where they offer worldwide apostolic supervision to over 1000 licensed and ordained ministers. Their testimonies demonstrate God's unmerited favor and complete restoration. The Barkers have a son that resides with them in Atlanta, Georgia, two daughters that live in Oklahoma, and four grandchildren.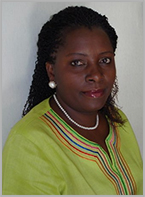 Elizabeth Nyambura - E. Africa Director for CCFIM. Elizabeth lives in Nairobi, Kenya, and she receivad the Lord Jesus Christ in a local church during an open air crusade, then joined the church choir where she was involved in Evangelism. It is at this time she realized Gods call to full-time ministry. She enrolled in Shalom Bible School in 2002, and attained a Diploma in Christian Education. In 2009, she attained a Bachelors Deegree in the same. She has helped in the planting and development of many churches in different parts of the World. Elizabeth is gifted in the area of music ministry and has produced a few albums. Currently, she is the representative of CCFIM as the East Africa Director. She also heads her Own Ministry Known as Springs of Life Evangelistic Association.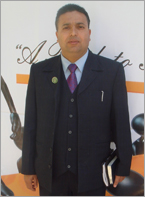 Rishi Rimal - Director of CCFIM in Nepal. He has a Masters Degree in Biblical Theology. He is overseer of several churches that he has founded in Nepal. He is married to Shara Laxmi Rimal who leads women's groups and Sunday School in the Church. They also have 3 daughters. The first is Rebeaka Rimal (21 years old) who has a Bachelors in Business,  2nd years (BBS). Their middle daughter is Sabina Rimal (20 years old) who has a Bachelors in Social Work, 2nd years (BSW). And finally, their youngest daughter is Salina Rimal (13 years old) who is in the 8th grade. He can be contacted by email at  This e-mail address is being protected from spambots. You need JavaScript enabled to view it .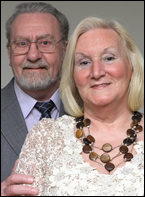 Joe and Ishbel Barnes share a vision for winning and discipling the lost and building up Christians to find their full potential, gifting and ministry in a nondenominational freedom. Joe, with his late wife, ran a God given ministry of showing mercy to the poor (missionaries and ministers) from all around the World for fourteen years. This was preceded by a Damascus road conversion, years of evangelism with signs following and Church leadership, with missions trips to Africa and Israel.  Ishbel was led into intercession over 20 years ago and has ministered in various aspects of prayer and leadership, both in Scotland at National level and in Eastern Bloc countries.